Exploring the Natural Origins of Astrological Wisdom
~The Elements ~ Nature ~ Cycles ~ Patterns ~ Art ~ Wisdom ~ Health & Healing~
The School of Living Astrology was born from an epiphany on the fundamental patterns that pulse through the heart of nature. This awakening created a visionary story that weaves the archetypes of astrology into a unified whole. After sharing these stories, I began to be asked to teach them. Thus, the school was born.
I offer in-depth live teaching programs as well as online programs suitable for any level of astrologer, beginner to expert. The Living Astrology model is unique and truly has its focus on life while utilizing the lens of astrology as the prime tool for collecting wisdom and communicating with nature.
Each course has a cosmological foundation woven into it and teaches a core philosophy that is focused on the principles of clarity, healing & wisdom. Each program covers a broad spectrum of astrological understanding from scientific, philosophical, cosmological, natural, mythical & spiritual perspectives.
These programs will offer you a new perspective on life and open the doors of possibilities to the gifts and wisdom that astrology has to offer!
The School of Living Astrology has a Program for Everyone!
"Tyler is a heart based astrologer who I feel is honestly about to change a lot of people's perspective on the way astrology is understood today."
THE CHIRONIUM FREE MEMBERSHIP
The Chironium Membership is your opportunity to get FREE access to exclusive content only offered to members. Learn the unique approach of Living Astrology with weekly insights and teachings, audio & video classes, plus special discount offers on consultations and other teaching programs.
Members also have access to the online forum to post comments, questions and stay connected with the Living Astrology community. Let's learn and grow together on our astrological journey!
"The way Tyler describes what has always seemed so complex about astrology is easy for me to receive because of the way he relates it to the greater patterns we see in every day life, seasonal patterns, and in the elements and modes as they appear in nature."
Samantha Wilkins ~ Williams, Oregon
SEASONAL COSMOLOGY MONTHLY SUBSCRIPTION PROGRAM
Seasonal Cosmology is a 12 month subscription program that reveals the natural origins of the 12 signs of the zodiac and its connected patterns to all of life. Each month you will receive a video that dives into the complete archetype of each sign and its energetic structure. We will go into each sign's ruling element, mode & planet and their connections to the seasons, nature and the human body. You will learn the teachings and expressions of each sign on the physical, mental, emotional & spiritual levels. This program will give you a solid philosophical foundation that will ground and awaken you on your astrological journey.
"In the past, I have struggled with astrologers' abstract language. Tyler is gifted with the ability to translate abstract concepts into a practical language that i am able to hear and understand. I appreciate how he has empowered my own healing by teaching me how to read my self, the sky and the mutual interaction that exists between the earth and the heavens."
Marta Mazzanti ~ Seattle, Washington
SOLA Online is an in-depth and comprehensive astrology training program spanning over an entire year. With over 40 hours of video classes, you'll learn the entire foundation of the Living Astrology model. This program is a guided initiation that will give you the philosophical foundation to learn and evolve your astrological understanding with nature as your teacher. This class is much more than simply an astrology course. It has a much larger focus including a grand cosmological vision, the ability to access the archetypes of astrology within nature and the elements, and a solid philosophy to approach anything in life beyond just astrology.
"Learning with Tyler has really made my astrological understanding "click"- and has moved astrology from being contained in my mind to now living in my heart. Essentially, Tyler is offering a pattern of understanding which is all-inclusive and allows you to see the meaning behind everything. He is certainly the real deal and I am super excited about continuing to learn from him!"
Jacquie Day ~ Past student of the SOLA Apprentice Program
2017 Registration Closed...Join the Waiting List!
Enter Your Name and Email Below to Join the Waiting List and be First in Line to Sign up for Next Years Program!

We value your privacy and would never spam you
THE SOLA APPRENTICE PROGRAM
The Apprentice Program is over 150 hours of live in person training in a small group with a maximum of 7 students allowed each year. This comprehensive training is rooted in developing a direct perception of the energetic landscape from which all astrological wisdom is derived from. This program is not about memorizing a bunch of astrological information. It's about learning to perceive and interact with the source of that information. This program simply gives you the keys to unlock the door of your own ability to learn all that you want to know about astrology from nature and life itself.
"By learning the archetypes during their natural season of the year, I was able to integrate the teachings more fully. It allowed me to see for myself how these energies manifest in the natural world around me and in my own life, giving me the wisdom I had been seeking. This program has given me the ability and the insight I needed to start sharing these teachings with others in the way I had been wanting. It has been a truly life changing journey that I am so grateful for."
Megan Walsh ~ Past student of the SOLA Apprentice Program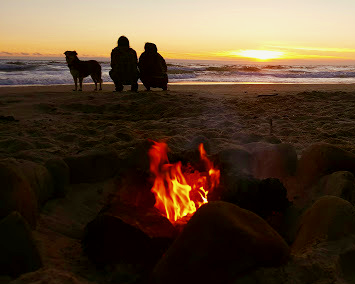 I live in the beautiful evergreen state of Washington with my partner and herbalist Mamie Wartelle and our dog Sequoia. I am a practicing astrologer whose mission is to restore the art back to its roots as a tool to understand ourselves and to live in balance and harmony with the world we live in. In my work, I seek to share this vision of astrology with others through the art of storytelling and observing the living elements in nature. I work one on one with clients utilizing the birth chart to heal and gain self perspective as well as to create a clear vision to move forward with. "Living Astrology" is the name I gave to my specific style and approach to astrology, as my focus is on the present moment and living in tune with nature and it's cycles. I am not a fortune-teller or magician. I am a humble astrologer who comes from the heart and is sincere in doing my best to help others to believe in themselves and reach their highest potential. I am an artist who loves to create with my hands and infuse meaning and story into my creations. I am a painter, leatherworker, beadworker and all around lover of creativity. I also enjoy playing the Native American flute, harmonica, guitar, mandolin & banjo. My spiritual path is one of healing and utilizing prayer and the wisdom that is given through the elements, plants and animals. I respect, learn and follow the traditions that have been handed down from our elders and ancestors who believed in the sacredness of this life.
Join in the Living Astrology Community
Enter your name and email below so I can send you special discounts on consultations, updates on teaching programs, plus FREE audio & video astrology teachings!
We value your privacy and would never spam you
Stay connected and follow me on Facebook, Twitter & Google+!